pimpin' my peeps
A couple of my colleagues at the Hoov have side projects they've worked up on evenings and weekends, and I thought both of these were well worth sharing with the folks I know.
Not long ago, Sharon and her husband launched BargainJack: "21 Deals Daily… Everyone Wins." The concept is pretty simple: "Jack" finds the best discounts on the net (mainly electronics and computer stuff, but other stuff turns up sometimes too) every day and shares his top 21. So what makes it stand out from any other bargain-hunting site? The details. Check out how well the blackjack theme is woven into every area of the site. The writing is snappy and clever. The design is clean, attractive, and easy to use—but an RSS feed is provided so you needn't come to the site daily to keep an eye out for a great deal. You can search the site, too, so if you're hunting for a specific make and model of something you can find out if a great deal has been featured recently. Bottom line: possibly the best site in the world for the price-fixated impluse buyer, and downright useful to everyone else too.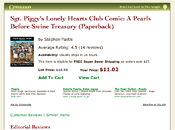 Jon, meanwhile, has been working on Omazan, "a clean, crisp alternative interface for Amazon.com." Omazan searches the actual Amazon.com products database, keeps track of what you want with a nice-and-simple shopping cart, and when you're ready to buy, the contents of your cart are transmitted to Amazon itself for secure checkout. The homepage says that "Omazan is what you use when you are pretty sure you know what you want and are ready to buy," but I've found—given the amount of stuff crammed onto every page of the real Amazon site—that Omazan ain't bad for browsing either, especially if you're poking around within a single author's catalogue, or a series. For now, Omazan is focused on books, but may eventually start to search through the tons and tons of other stuff that Amazon offers. Give this a shot next time you're about to buy something off Amazon so you won't (to paraphrase Omazan's tagline) get lost in the jungle.