this thing here is called Crunk Juice
First things first, here's the track, Crunk Juice.
I've written tons of songs over the years, and I've never really had a single approach to writing or structuring stuff. Things have come up in all sorts of different ways. The one thing that never, ever happens, though, is for me to pick up an instrument with nothing in my head at all and then just play a part that I wind up keeping and using in a song exactly as-is.
Well, almost never. A few months ago I pulled the bass off the wall, played this one right off the cuff, and knew I'd do something with it. Still, I was kind of stunned that the next day I remembered exactly how it went, and made sure to get it recorded.
After some noodling around under the working title "fuzzbass manifesto," it became Crunk Juice, named for an awesome painting, "Agony in the Garden" I saw at the East Austin Studio Tour, which may or may not be named for this 2004 album, which I don't think I've ever heard of.
The painter is Charlie Chauvin, by the way; check his stuff out. I don't know much about art but I know I like to look at his paintings.
So, as I fleshed things out after that first bass track I was trying to keep the vibe something like one of those cool Beastie Boys instrumental tracks they do sometimes, though it veered into more 70s territory, for better or for worse (there may even be a little bit of a TV-theme-song feel, but what the hell). The second section sure feels ripped off from a Ween song, but damned if I recall which one. All I know is this whole tune really made me wish I could play me some keyboards; it's begging for a badass clavinet part.
Finally: please forgive the silly 4-fake-saxophone chord that kicks it off. I'm still putting my dining-room recording cave together and have very little in the way of software instrumentation besides some of the junk that GarageBand has to offer.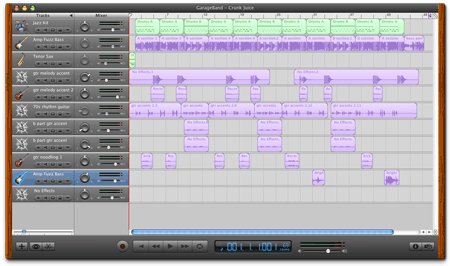 Crunk Juice by Rob Lifford is licensed under a Creative Commons Attribution-Share Alike 3.0 United States License
RL, 2010.02.06. Happy birthday to me.